South Florida's Cash Buyers Cushion Effect of Higher Mortgage Rates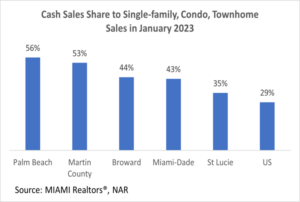 By Gay Cororaton, MIAMI REALTORS® Chief Economist
Mortgage rates have nearly doubled over the past year to 6.5% as of the week of February 23. While the housing market is readjusting to higher mortgage rates, South Florida is better poised to face this headwind due to its attractiveness to cash buyers, typically second home, investment, and foreign buyers.
In January 2023, cash sales made up 43.2% of Miami-Dade County's closed sales compared to 29% nationally.  Cash sales made up 44.1% of home sales in Broward County, 56% in Palm Beach County, and 52.8% in Martin County. Back in January 2019, cash buyers accounted for just 37.7% of all sales in Miami Dade County.
Cash buyers are dominant at the higher price segment
In Miami-Dade, 18% of single-family sales sold at $1 million or more, compared to 5% nationally. Of buyers who purchased homes worth $1M or more, 61% were all-cash sales. More affluent and cash-rich buyers are less sensitive to interest rate increases than buyers who need to obtain a mortgage.
Among homes that sold for less than $400,000, 33% were all-cash, an indication that investors were active in this market segment.
Higher share of cash buyers in condo/townhomes market
Miami-Dade's housing market is also different than other markets because of its higher share of condo/townhome sales that make up about 50-60% of the market, compared to about 10% nationally. A high fraction of condo/townhome buyers pay cash. Among condos/townhomes that sold at below $400,000, 41.6% were cash sales, and among condos that sold for $1M or more, 73.5% were cash sales.
Compared to single-family homes, condos/townhomes are more likely to be rented out or used as vacation homes, especially among foreign buyers that account for 17% of the MIAMI Realtors® sales in Southeast Florida. During the period July 2021-June 2022, 72% of foreign buyers purchased a condominium/townhome, and 66% of foreign buyers made an all-cash purchase, according to the 2022 MIAMI International Homebuying Report.
Second home/investment buyers typically have higher income than primary residence buyers
Miami Dade has a higher share of vacation home and investor buyers than nationally. Among mortgage borrowers who purchased a property in Miami-Dade in 2021, 3.8% purchased a property as a second home and 9.7% purchased the property as an investment property. These are higher than the national figures of 2.9% and 6.75% respectively.
Income data among cash buyers is not collected administratively, but the income of mortgage borrowers could be used as a gauge to compare the income of buyers who purchase a home for primary residence, vacation use, or as an investment rental property. Based on the 2021 Home Mortgage Disclosure Act snapshot data, the median income among borrowers who obtained a first-lien mortgage for a site-built home or a condo unit as a second home in Miami-Dade County was $ 283,000, while the median income among loan borrowers who purchased an investment property was $131,000. Among primary residence borrowers, the median income was $97,000.
In summary, South Florida tends to attract cash buyers who are more likely to purchase vacation homes and properties for investment rental.  These cash buyers, and even those who obtain a mortgage, typically have higher income than primary residence buyers. Cash buyers are less sensitive to mortgage rate increases than mortgage borrowers, increasing the resiliency of South Florida to rising mortgage rates.
Originally published at https://www.miamirealtors.com/2023/02/24/south-floridas-cash-buyers-cushion-effect-of-higher-mortgage-rates/
The post South Florida's Cash Buyers Cushion Effect of Higher Mortgage Rates first appeared on Miami in News.
Real Estate - Miami in News originally published at Real Estate - Miami in News