MIAMI Realtors Hosting 73rd FIABCI World Real Estate Congress in June; Former Florida Governor Jeb Bush will be Keynote Speaker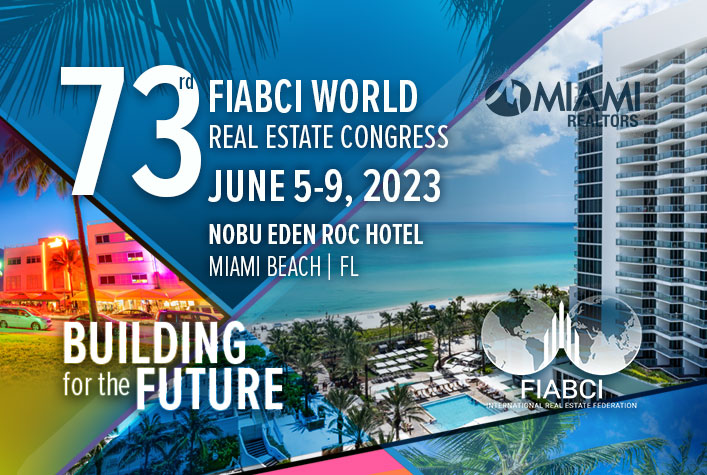 MIAMI — The MIAMI Association of Realtors (MIAMI) is honored to announce it has been selected to host the 73rd FIABCI World Real Estate Congress on June 5-9 at the Nobu Eden Roc Hotel in Miami Beach, and that former Florida Governor Jeb Bush will be the keynote speaker. This marks the first time in the International Real Estate Federation's incredible history that Miami will be the host city and a local Realtor association will be the host. MIAMI will be announcing more speakers and panels as this historic event approaches.
"Miami's selection as host city for the FIABCI World Real Estate Congress speaks to Miami's rapid growth as a top global city and FinTech power," MIAMI CEO Teresa King Kinney said. "We are incredibly honored to become the first local Realtor association to serve as host for this important event and we plan to showcase everything Miami, the global city of the future, has to offer to FIABCI's distinguished members and guests and to the world."
Under the theme "Building for the Future," the 73rd Congress will feature more than 45 world-class speakers, attendees from 70 countries, four days of high-level conferences, the Prix d'Excellence Awards known as the "Oscars of Real Estate," the historic black-tie FIABCI Medal Holders Dinner, business networking opportunities and social tours of Miami's iconic neighborhoods, venues, attractions, and more.
Register and access event programming and speakers: https://miamifiabcicongress.com/
$3 Million in Economic Impact to Greater Miami
The event, with its 600 global attendees, is expected to generate $3 million and support 600 jobs in Greater Miami, according to the Greater Miami Convention & Visitors Bureau.
"It is only fitting that this momentous event will take place in Miami, one of the most desirable destinations in the world right now," 2022-23 FIABCI World President Susan Greenfield said.
Jeb Bush to Deliver Keynote Address at 73rd FIABCI World Real Estate Congress in Miami
Jeb Bush, the 43rd governor of the state of Florida who served two terms from 1999 to 2007, is a renowned policy expert and one of America's most experienced reformers who led change by inspiring citizens, businesspeople, and policy makers. Before running for the Republican presidential nomination in June of 2015, he served as the head of a consulting company whose clients ranged from technology start-ups to Fortune 500 companies.
Today, Bush demonstrates his unwavering commitment to forging a better future for America as chairman of the Foundation for Excellence in Education, which focuses on transforming and providing an education system that maximizes every student's potential for learning and prepares all students for success in the 21st century.
He also showed his commitment by serving as chairman of the National Constitution Center, America's first and only nonpartisan, nonprofit institution devoted to the U.S. Constitution, its ideals and its legacy of active citizenship. He has written three books, Profiles in Character; Immigration Wars: Forging an American Solution; and Reply All: A Governor's Story 1999-2007.
Governor Bush is the son of former President George H.W. Bush and Barbara Bush. He lives in Miami with his wife Columba, and they have three children and five grandchildren.
About the MIAMI Association of Realtors®
The MIAMI Association of Realtors (MIAMI) was chartered by the National Association of Realtors in 1920 and is celebrating 103 years of service to Realtors, the buying and selling public, and the communities in South Florida. Comprised of six organizations: MIAMI RESIDENTIAL, MIAMI COMMERCIAL; BROWARD-MIAMI, a division of MIAMI Realtors; JTHS-MIAMI, a division of MIAMI Realtors in the Jupiter-Tequesta-Hobe Sound area; MIAMI YPN, our Young Professionals Network Council; and the award-winning MIAMI Global Council. MIAMI REALTORS represents nearly 60,000 total real estate professionals in all aspects of real estate sales, marketing, and brokerage. It is the largest local Realtor association in the U.S. and has official partnerships with 246 international organizations worldwide. MIAMI has been selected to host the prestigious FIABCI World Congress on June 5-9, 2023. MIAMI's official website is www.MiamiRealtors.com
###
Originally published at https://www.miamirealtors.com/2023/04/04/miami-realtors-hosting-73rd-fiabci-world-real-estate-congress-in-june-former-florida-governor-jeb-bush-will-be-keynote-speaker/
The post MIAMI Realtors Hosting 73rd FIABCI World Real Estate Congress in June; Former Florida Governor Jeb Bush will be Keynote Speaker first appeared on Miami in News.
Real Estate - Miami in News originally published at Real Estate - Miami in News